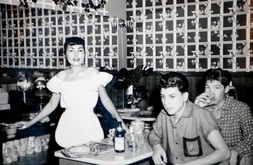 WHY MEXICAN FOOD AND ELVIS?

Visitors to Azteca Restaurant & Lounge in Garden Grove continually ask, "Why was this Mexican restaurant decorated with Elvis Presley memorabilia?" They're right to wonder. It makes no obvious sense! But that charming disconnect helps make our place so special and unique. Even if you are not an Elvis fan, you will remember Azteca long after your visit! To help you understand the Azteca-Elvis connection, here's a little history of just what happened:

Back in 1957, the "first" Azteca Mexican Restaurant was opened by Aunt Connie on Garden Grove Blvd. a short distance from here. But Connie's lifelong ambition was to own a restaurant on what is now Historic Main Street and she fulfilled that dream in 1980 when she moved Azteca to its present location. Aunt Connie had been an avid collector of antiques so the Azteca decor of old reflected that interest. Most importantly, she was a gifted cook who shared her love for authentic Mexican cuisine with Garden Grove until 1993 when she turned over the reins to her nephew, J.J. Jauregui.

---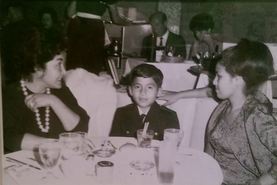 As a child, J.J. became fascinated with Elvis while watching his parents' small black and white TV. He recalls the precise moment he became "hooked forever" on Elvis, when he heard Elvis sing 'Teddy Bear' in the movie 'Loving You'. So, shortly after taking over from Aunt Connie, J.J. purchased his favorite framed picture of "The King". According to J.J., "It was way too cool to be left at home, so I brought it to Azteca to show it off". That same picture - the one that would become the foundation for a whole new Azteca image - still hangs over Booth #1 in the bar today. Gradually J.J. acquired more and more Elvis commemoratives until they crept up the walls, spread across the ceilings and eventually covered every surface of the restaurant!
---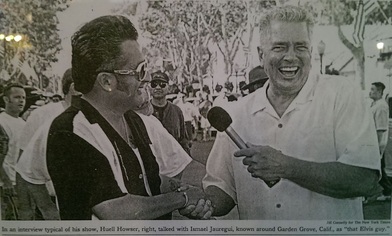 The "Elvis Restaurant" reputation has become part of Orange County lore and Azteca is regularly featured in news articles and spotlight reports. Huell Howser is shown here interviewing J.J. during the filming of one of Howser's "California's Gold" series for KCET-TV. Chris Burrous featured the Elvis Restaurant in one episode of Burrous' Bites on KTLA-Channel 5.

Fast forward to 2014 and Azteca is still more than a half-century-old cornerstone of Historic Main Street. But after running a busy restaurant for over two decades himself, J.J. decided it was finally time for a change.


---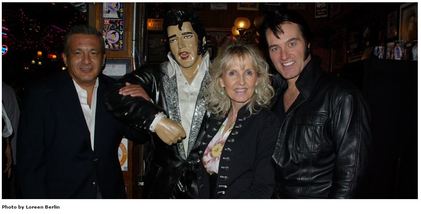 Thus the restaurant business was sold in April, 2014 to new owner, Jennifer. But wait! J.J. has not left the building! In fact, he still owns it and is the landlord of the Azteca location. His Elvis collection has remained in place and is still touted as "the largest west of the Mississippi". It will continue to impress and entertain visitors to Azteca for many years to come. What about this new Azteca owner, Jennifer? That is a story for another day. The good news is that Jennifer is an aficionado of excellent Mexican food and an Elvis fan too!


---